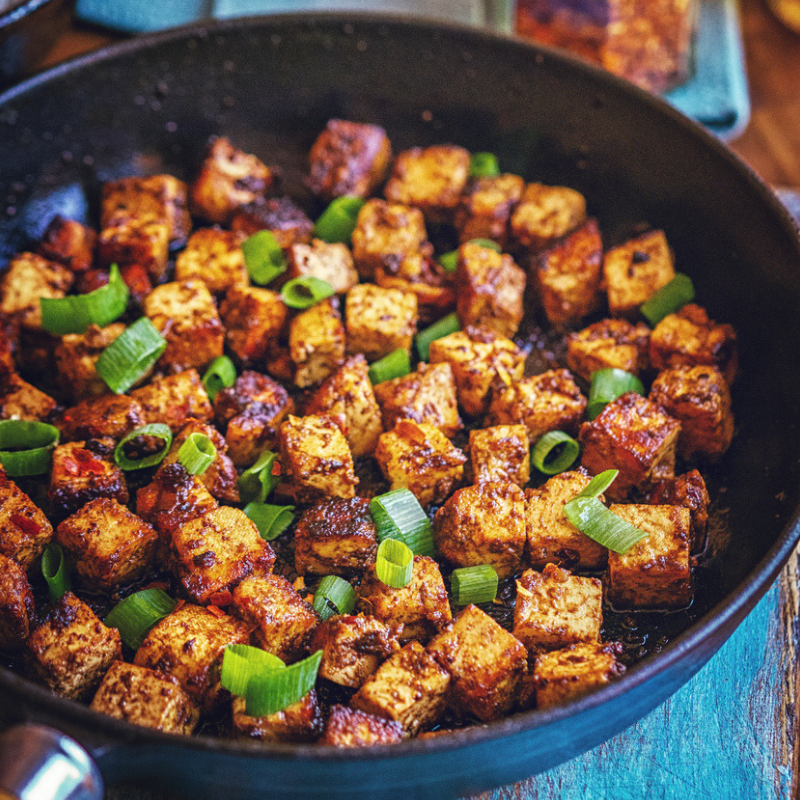 This Szechuan tofu is spicy, numbing, hot, aromatic and tender. We combine everything you love about Chinese takeout - sweet and savory, the super-crispy tofu and caramelized vegetables -into one quick vegetarian main. 
Ingredients

For sauce:
3 tbsp soy sauce
2 tbsp rice vinegar
One-fourth cup honey
1 inch ginger, minced
2 cloves garlic, minced

For stir-fry:
15 oz. extra firm tofu
4 tsp olive oil, divided
2 tbsp RawSpice Bar's five spice powder
Salt to taste
1 yellow pepper, chopped
1 green bell pepper, chopped
2 carrots carrot, chopped
1 bunch green beans
2 fresh red chili peppers (optional)
Directions:
Carefully cut the tofu into about 1-inch cubes.

Prepare sauce, In a medium bowl, whisk together soy sauce, rice vinegar, honey, ginger, and garlic.

Heat 2 teaspoons of olive oil in a large non-stick skillet over high heat. When the oil is hot, add Chinese five spice powder and stir until fragrant, about 2 minutes. Add tofu and salt, then cook for 3-4 minutes or until tofu begins to brown. Remove from skillet.

Add the other 2 teaspoons of olive oil. Add vegetables (and chili peppers, if desired) and stir-fry for about 4-5 minutes until crispy. Add sauce to skillet and toss vegetables to coat. Serve with tofu over your favorite grain (brown rice, quinoa or barley) and enjoy!
---
2 comments
---
---
More from The Pinch: A Spice Blog
View all