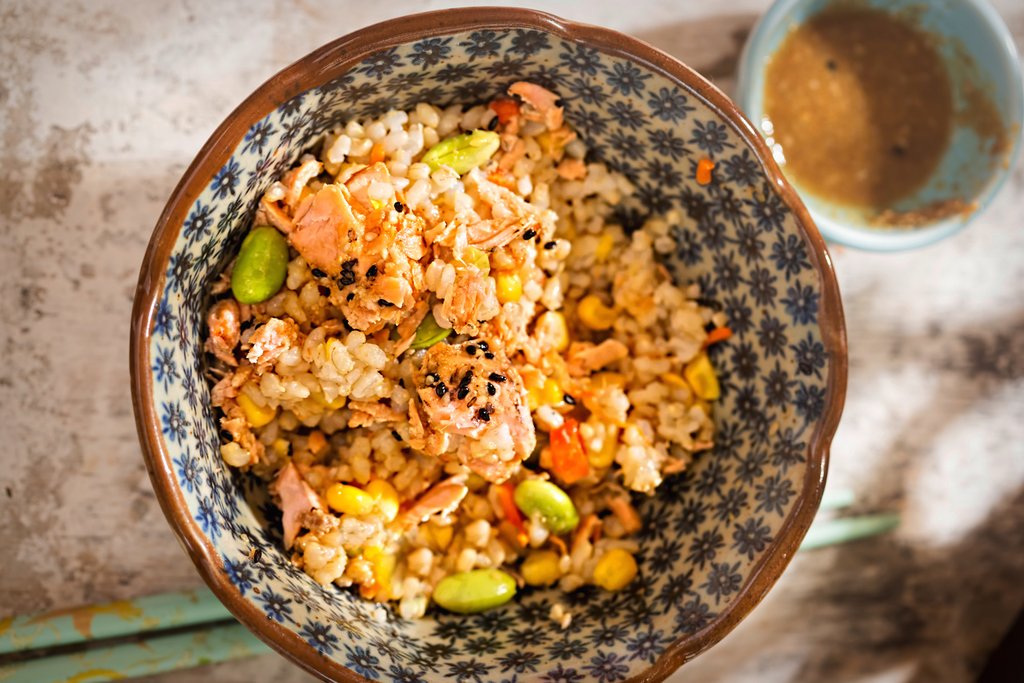 Oyako means "mother and child" and donburi translates to "rice bowl" in Japanese. So oyako donburi literally translates to chicken and eggs in a bowl, served over hot rice. We love the adaptability of these Japanese grain bowls- mix and match based on whatever you have in the fridge. For grains, try subbing quinoa, farro, wheat berries or barley for rice. Or do half and half for a nice texture. Add grains with egg, pile on veggies and chicken (or another protein, like salmon), and top with sweet, pickled, or salty, like shichimi togarashi or furikake, as a finishing touch.
Ingredients
2 tbsp RawSpiceBar's furikake or shichimi togarashi
2 cups hot cooked brown rice or quinoa
2 eggs
1 cup chicken broth
1/2 lb bite sized chicken pieces (optional)
Soy sauce, scallions or edamame, to top (optional)
Kosher salt, to taste
2-3 tbsp sesame oil
1 tbsp rice wine vinegar
1 inch fresh ginger, minced
Directions
In a small skillet, combine soy sauce, ginger, vinegar and salt to taste. Whisk in sesame oil. Add chicken to coat, cook 4-5 minutes. Add broth.
Place steaming rice in a bowl and make a shallow indentation in the center. Pour in broth and break one whole egg into the center. 
Stir vigorously with chopsticks to incorporate egg. Top with soy sauce, wasabi, chicken, scallions and any other toppings, plus furikake. Serve immediately & enjoy!
---
More from The Pinch: A Spice Blog
View all