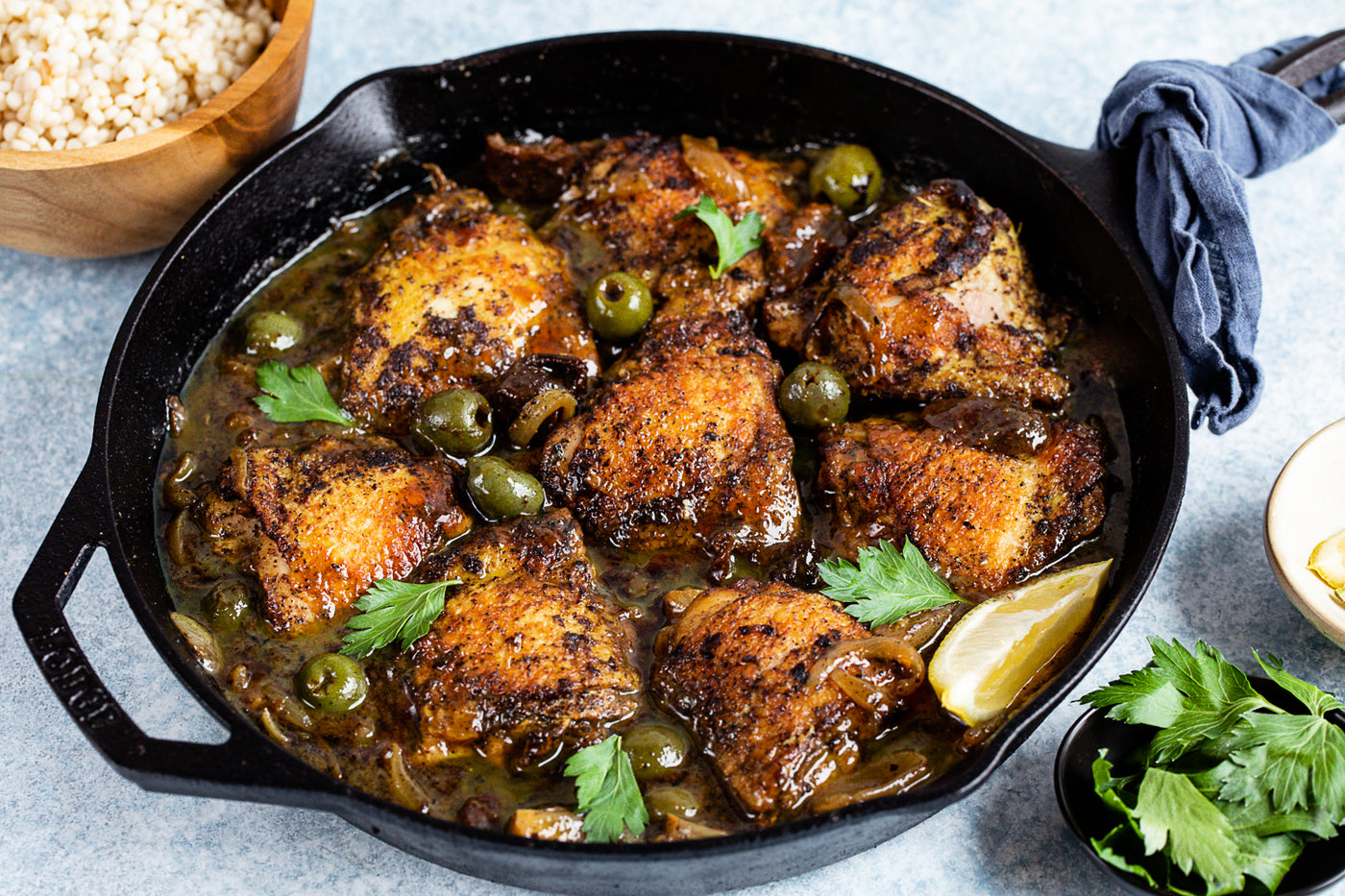 Serves: 6-8 
Prep time: 10 minutes 
Marinating time: 1 hour 
Cook time: 45 minutes 
2 tablespoons Ras el Hanout Blend 
2 tablespoons olive oil, divided 
2 tablespoons lemon juice plus lemon slices for serving 
1 teaspoon kosher salt, plus more to taste 
4 pounds bone-in skin-on chicken thighs 
2 medium yellow onions, sliced thinly 
4 garlic cloves, minced 
½ cup pitted green olives 
½ cup prunes, chopped 
2 cups low-sodium chicken broth 
Minced fresh parsley, for garnish 
Couscous for serving 
In a zip-top bag, combine the Ras el Hanout Blend, 1 tablespoon olive oil, lemon juice and salt. Pat the chicken dry with a paper towel and add the chicken to the marinade. Mix to coat the chicken and marinate for at least an hour and up to 8.  

 

Heat the remaining 1 tablespoon oil in a large heavy skillet over medium heat. When hot, gently place the chicken into the skillet, working in batches to avoid crowding the pan. Sear for 3-4 minutes per side, until nicely browned. Remove the chicken to a plate. 

 

Pour off all but 1 tablespoon of drippings from the skillet and return the pan to medium heat. 

 

Add the onions and a pinch of salt and cook for 7-10 minutes, until starting to caramelize, stirring occasionally. Reduce the heat as necessary to avoid burning. Add the garlic and cook for 30 seconds, until fragrant. 

 

Add the chicken stock and scrape up any browned bits on the bottom of the pan. Add the olives, prunes, and chicken. Bring to a simmer, then reduce heat to low and cover the pot. Simmer for 20-25 minutes, until the chicken is cooked through and reaches an internal temperature of 165°F. Season to taste, sprinkle with parsley and serve with couscous and lemon wedges. 

 
---
4 comments
---
---
More from The Pinch: A Spice Blog
View all