Lobia Masala (Black-Eyed Peas)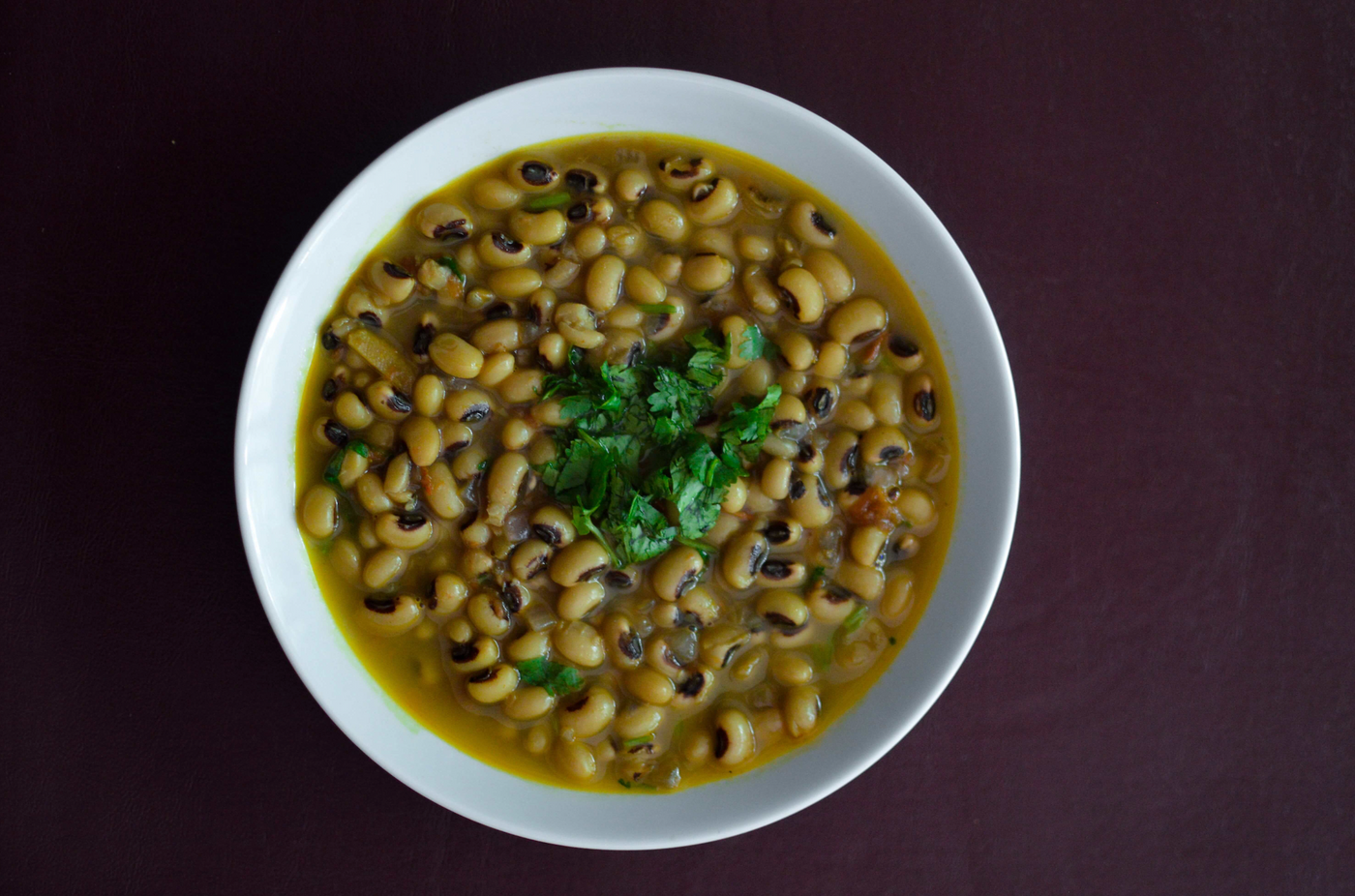 A perfect stew for a crisp fall day, this dish is high in protein and rich in flavor and comes from the cookbook, Just a Dash. Easy to make in an instant pot or pressure cooker, or substitute with canned black-eyed peas for quick weeknight preparation. Pair with your favorite rice or Indian bread for a hearty but healthy meal! 
Sign up for other amazing recipes from their cookbook here!
Vegan; Serves 4-5 people
PRE-SOAK TIME: 2 hours**
PREP TIME: 20 minutes
Ingredients:
1 tbsp garam masala

1 tsp salt

1 tsp cumin seeds

1 cup dried black-eyed peas (can be substituted with 2 (two) 15-oz cans of black-eyed peas)

2-3 cups of water 

1/2 medium-sized onion (any kind), diced 

1 half-inch cube of fresh ginger, sliced thin 

1 large beefsteak tomato (or 2 plum tomatoes), diced

1 1/2 tbsp lemon juice 

1 tbsp canola or vegetable oil
*Note: Recipe spice-level is medium. Try cutting starred spices portions in half to lessen heat; adjust up to taste.
**Note: Canned peas do not require pre-soak. If using canned peas, you may need to halve salt as many brands pre-add salt. You may also need to add an extra tomato to reach desired moisture levels.
Directions:
Pre-soak: Soak black-eyed peas in warm water for a minimum of 2 hours before cooking. If using canned peas, rinse well before using. 
Dice tomato and onion separately. Slice ginger.

In a pressure cooker, add oil and heat on high. Allow to heat for 20-30 seconds. Add cumin seeds. Seeds should be crackling in the hot oil for approximately 30 seconds.

Add onion and ginger. Leave on high heat for 1 minute before turning down the temperature to low. Continue to stir until onions are translucent to golden brown.

Add salt (adjust to taste for canned), tomato and garam masala to the mixture. Stir with a large spoon, mushing tomatoes into the mixture. Mush until the pulp/juice has separated from the tomato skin.

Remove peas from water used to soak. Peas should be plump. Place in pressure cooker. Add 2-3 cups of water. Water should reach about ½ inch above the beans in the cooker. 

[If using canned peas, simply add peas to pressure cooker at this step, let simmer and add lemon juice.]

Cover and cook for ~15 minutes on medium heat. If the pressure cooker whistles, listen for 3-4 whistles. If peas are not tender after 3-4 whistles, re-cover and continue to cook. Add lemon juice and stir. 
About Just a Dash:
With 75 vegetarian and vegan recipes, Just a Dash: Recipes from Our Mother's North Indian Kitchen delivers a comprehensive look into North Indian home-cooking with a personal touch from our mother. As a first generation Indian-American, Neeti Singhal, recounts trying to learn to cook from her mother, a brilliant home chef who never measured an ingredient in her life. With no concept of what a dash of one spice versus another could do to impact flavors, Neeti struggled to recreate the dishes of her childhood. Years later, she has painstakingly documented each measurement and brought her family's home recipes to the public. This cookbook brings structure to the flavors Neeti and her brothers grew up with, providing plenty of background information about North Indian ingredients, cooking methodologies and dish pairings. With simple instructions, beautiful pictures of each recipe, and plenty of plant-based options and alternatives, Neeti helps bring every recipe to life in your own home. Whether you're an experienced Indian chef or a novice Indian-food aficionado, Just a Dash has something for all!
---
More from The Pinch: A Spice Blog
View all