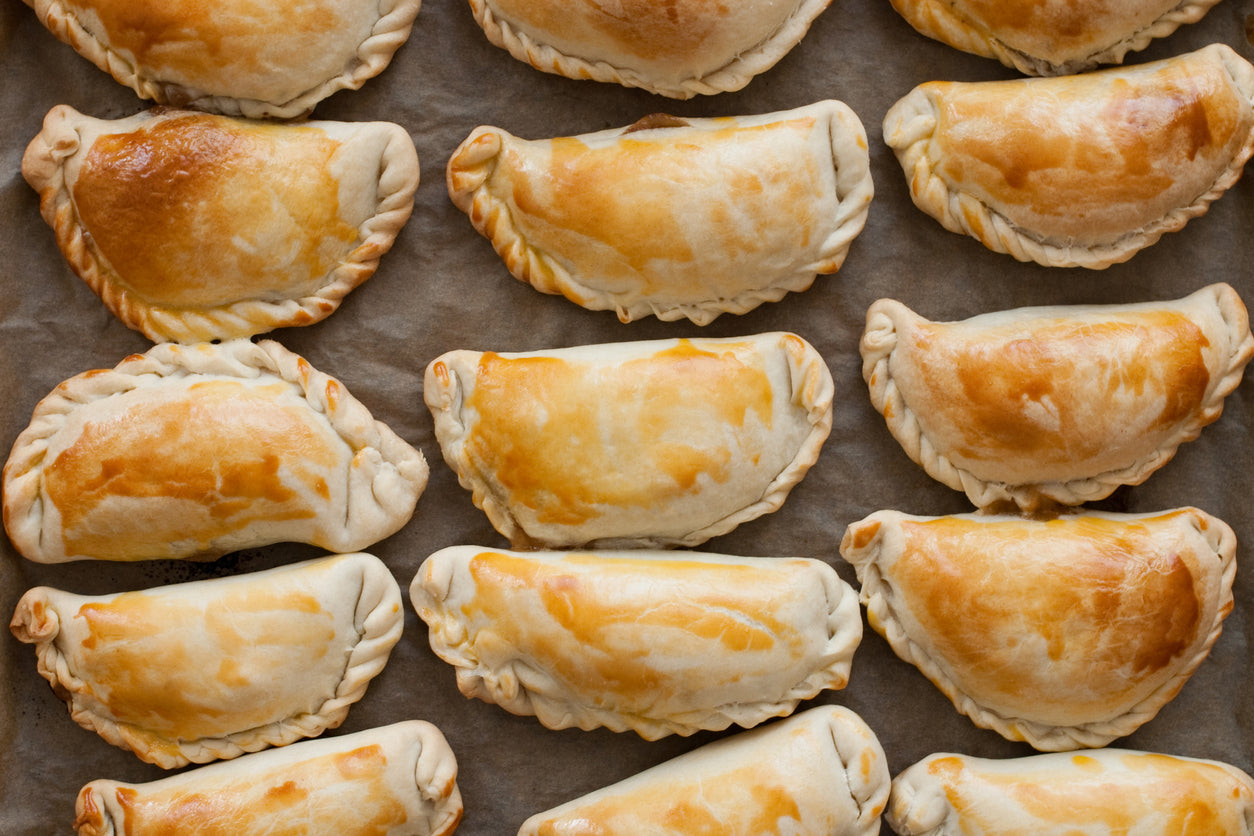 Everything there is to love about chicken pot pies, made into portable hand pies. This healthy, easy recipe hits all the flaky, creamy notes of the classic but with an extra dose of veggies. These hand pies pass the test for convenient comfort food at home.
Ingredients

3 tablespoons oil
1 onion, chopped
3 carrots, chopped
3 stalks celery, chopped
3 cloves garlic, minced
1 tbsp poultry seasoning
2 tablespoon flour
1 cup white wine
2 cups chicken stock
1 teaspoon Dijon mustard
1 cup frozen peas
1 1/2 cups diced cooked chicken
2 sheets frozen puff pastry, thawed or premade empanada dough
2 eggs
Kosher salt and pepper, to taste

Directions
1. Preheat the oven to 375 degrees F. Add oil in a large saute pan over medium heat. Cook the onions, carrots, and celery with salt and pepper, 5 minutes.
2. Add peas, chicken, garlic and poultry seasoning and cook 3-5 minutes, stirring frequently. Add flour and combine, another minute.
3. Turn up heat to medium-high and deglaze the pan with wine. Whisk in the stock and Dijon mustard and cook on a very low simmer until the sauce thickens up into a gravy, 5 to 10 minutes. Remove from the heat and set aside.
4. On a lightly floured surface, unfold the pastry dough and cut into even squares, cutting horizontally and vertically.
5. Roll out each square, increasing slightly. Add to baking sheet and spoon mixture in the center. Fold the squares diagonally to create triangles.
6. Pinch the edges together to create turnovers and press edges with a fork.
7. Whisk the egg with a splash of water and brush the turnovers with the egg wash. Cut a small slit in the top to allow the steam to escape during baking.
8. Bake the turnovers until golden brown, about 30 minutes. Let cool and serve.
---
More from The Pinch: A Spice Blog
View all