Cajun Shrimp & Cheesy Polenta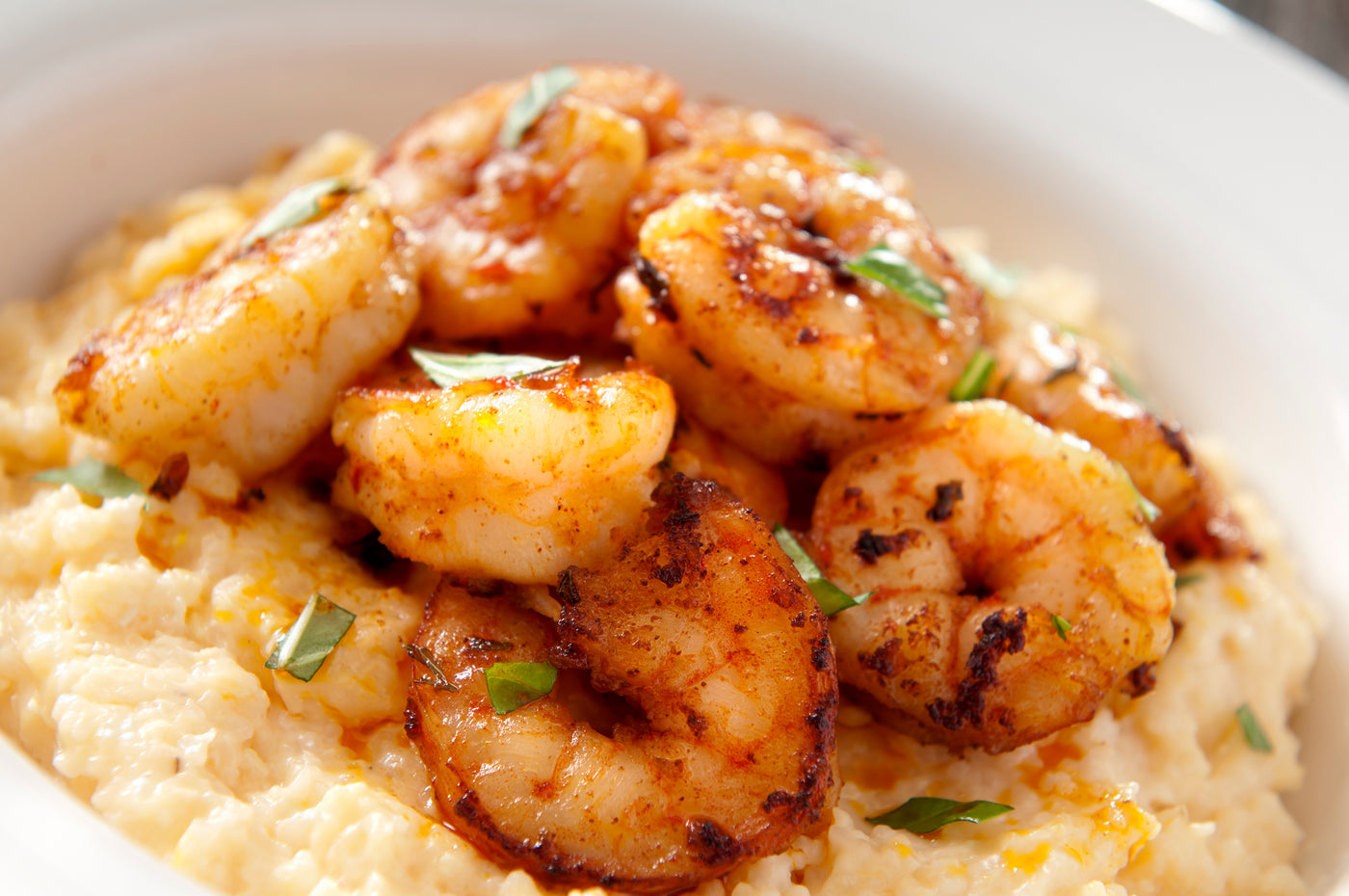 This Ottolenghi inspired recipe is a take on the famous shrimp and polenta. Buying the prawns with shell on can be used to make your own shellfish stock for the cheesy polenta. This is a quick and easy dish with our freshly blended Cajun seasoning. Enjoy!
Serves 4
Ingredients
1 pound extra large shrimp, shelled and deveined
5 thick bacon slices, chopped
One bunch chopped parsley
2 cloves garlic, minced
2 green onions thinly sliced
1/2 cup red bell pepper diced
3 teaspoons Cajun seasoning
1/2 cup shellfish stock or water
1/2 lemon 
Salt and pepper, to taste

For Polenta

1 cup quick cook polenta
3 cups shellfish stock, or water
2 cups milk
1 bay leaf
2 tbsp unsalted butter
1 1/2 cups white sharp cheddar cheese

Instructions

1. In a large skillet over medium heat, sauté bacon until brown and crisp, 3-5 minutes. Remove bacon from skillet and transfer to a plate, leaving drippings in the pan.
2. Add 1 tablespoon of oil/butter to the pan with shrimp. Followed by shrimp, salt and cajun seasoning and sauté shrimp, about 3-4 minutes. Set aside.
3. Add garlic, paprika, bell pepper, parsley, and green onions. Add broth and cook, 3-4 minutes. Add shrimp, bacon and splash of lemon juice. 
4. For polenta, add stock, milk, bay leaf and salt to a heavy saucepan and bring to a boil. Gradually whisk in the polenta, stirring vigorously to keep smooth. Reduce heat to a simmer, about 15 minutes until water is absorbed. Remove from heat; add butter and cheese, whisking until melted. Serve and enjoy!
---
More from The Pinch: A Spice Blog
View all