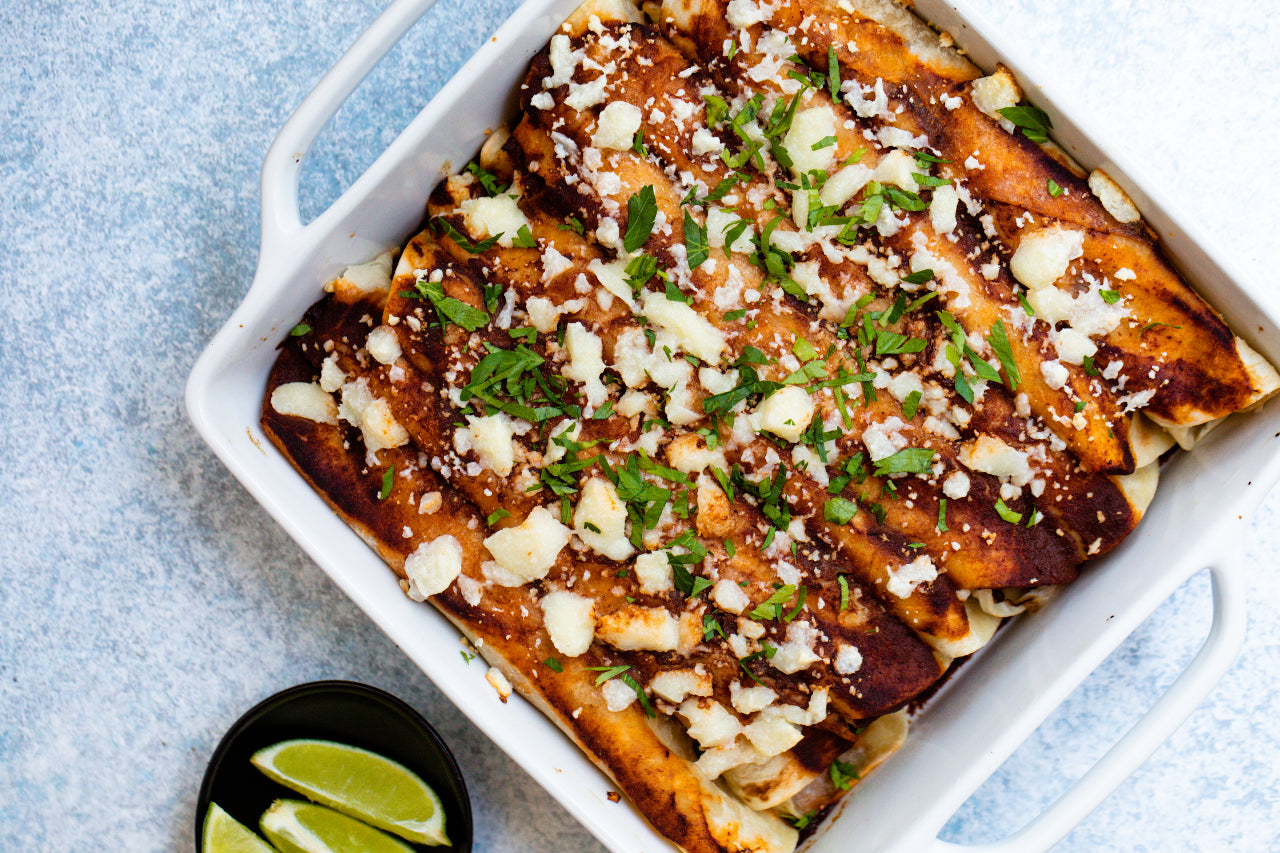 Serves: 4  
Prep time: 5 minutes 
Cook time: 40 minutes 
Total time: 45 minutes 
Enchilada Sauce 
1 14.5-ounce can diced fire-roasted tomatoes  
¼ cup low-sodium chicken broth or water 
2 tablespoons olive oil 
2 teaspoon apple cider vinegar 
2 tablespoons RawSpiceBar Adobo Blend  
1 teaspoon kosher salt 
Enchiladas 
1 tablespoon olive oil 
1 medium yellow onion, diced 
1 pound ground beef, chicken or turkey 
1 tablespoon RawSpiceBar Adobo Blend
8 medium flour tortillas 
1 cup crumbled cotija or shredded Mexican blend cheese 
1 can black beans, drained and rinsed or refried beans 
Chopped fresh cilantro for serving.  
Preheat the oven to 350°F. Grease an 8x8-inch baking dish.

 

To make the enchilada sauce, add all of the ingredients to a blender and blend on high until smooth. 

 

Heat the oil in a large skillet over medium heat. Add the onion and cook for about 4 minutes, until starting to soften. Add the meat and cook, breaking it up into smaller pieces, until cooked through, about 5 minutes. Add the RawSpiceBar Adobo Blend and ½ cup enchilada sauce and cook for 1 minute. 

 

Spread ¼ cup enchilada sauce over the bottom of the prepared baking dish. 

 

Fill the tortillas by placing two heaping tablespoons of beans and two heaping tablespoons of the meat filling on the bottom third of each tortilla. Roll them tightly closed then place seam side down in the prepared baking dish. Repeat with the remaining tortillas and filling, tucking them all tightly into the dish. 

 

Pour the remaining sauce over the tortillas in the baking dish and spread smooth. Sprinkle with cheese. Cover the dish with aluminum foil and bake for 10 minutes. Remove the foil and bake for another 10 minutes, until browned in spots. 

 

Garnish with cilantro to serve.

 
---
More from The Pinch: A Spice Blog
View all