Best Fenugreek Substitute?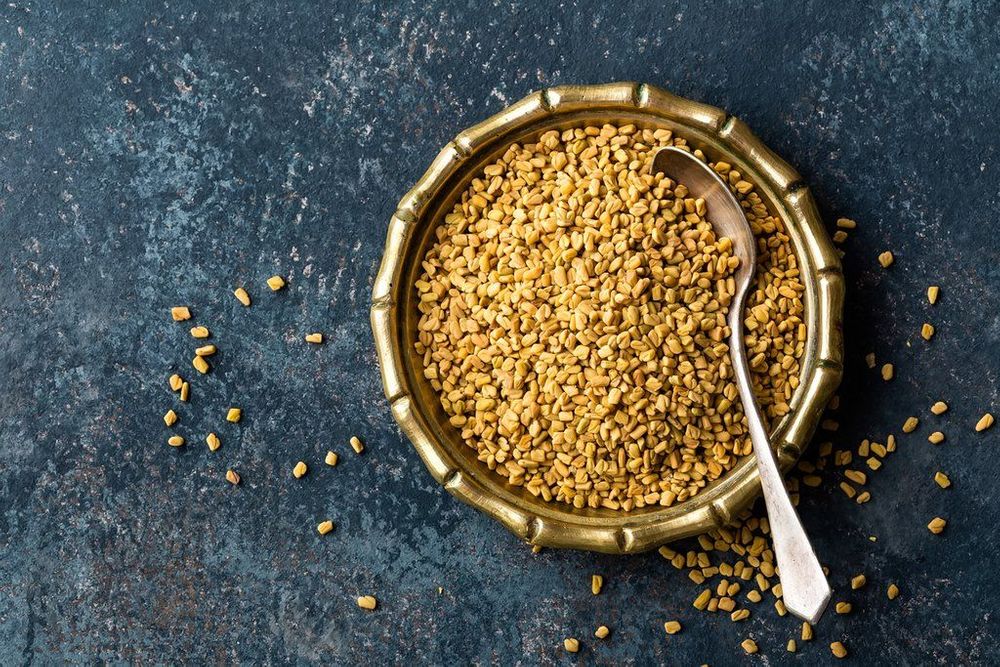 Fenugreek seeds have a somewhat bitter taste, similar to celery, maple syrup or burnt sugar, and are often used to make medicine. However, fenugreek, like many spices has a far more pleasant taste when cooked. The seeds are the most widely used part of fenugreek, which are usually dried and ground. The leaves are often used in cooking as well.
Fenugreek is used in many curry powder blends, such as garam masala, as well as in other Indian spices & blends, plus Indian dishes like chutneys. It is also used in dry rubs for meat as well as in certain tea blends. If you like cook Indian dishes, this is an indispensable spice and you should definitely keep it on hand.
Fenugreek is native to India and southern Europe and has grown wild for centuries throughout India and North Africa. Fenugreek is used for commercial purposes in mango chutneys and a base for imitation maple syrup. Both fenugreek and Maple syrup have a chemical compound, sotolone.
Fenugreek seeds serve as a key component in curry powders like garam masala, and is an important ingredient in panch phoran, an Indian five-spice blend. Fenugreek compliments biryanis, fish, brines and chutneys beautifully and is also found in niter kibbeh, an Ethiopian spiced butter. In India, roasted ground fenugreek seeds seeds are infused for a coffee substitute or added with flour to make bread. Fenugreek tea can be made by infusing teaspoon of seed with two cups of water. Lastly, fenugreek seeds are an ingredient in halva, a Middle Eastern dessert.
Fenugreek is the perfect counterpart to dark, bitter greens and pairs well with strong spices like ground coriander, cumin, and paprika. Fenugreek will help to deepen tomato sauces and stews, plus pairs well with braised vegetables like okra and spinach. Toast fenugreek seeds slightly before using, and then grind fresh. Just a small amount will complement many spices, but too much can be overpowering.
Best Fenugreek Substitutes If you're totally out of fenugreek seeds or your ground fenugreek has been sitting on the shelf for far too many months (or years!), we've got some great fenugreek replacements for you.
Best Bet: 1 part toasted yellow mustard seeds + pinch maple syrup
Individual Spices: Yellow mustard seeds Brown mustard seeds Masala curry powder
In a Pinch: Maple syrup Toasted brown sugar
Mustard is another way to get the earthiness of fenugreek. Depending on the dish, mustard may impart the combination of flavors necessary to give a fenugreek-like flair. Substitute an equivalent amount of mustard seed in lieu of fenugreek seed. A teaspoon of honey-dijon mustard can also work instead of an equivalent amount of fenugreek seed. If you need a substitute for fenugreek leaves, you can use mustard greens.
Curry powder
Most curry powders contain powdered fenugreek seeds. Adding curry powder to your dishes will give them a distinctive fenugreek taste; however this aroma is going to be weak because of all the other overpowering curry spices aromas.
Always look for freshly made curry powder as the fenugreek aroma tends to fade very quickly.
Other alternatives
Fennel seeds can be used to replace fenugreek but they are sweeter and can easily overwhelm a dish, so you will want to use these sparingly. Chinese celery leaves can be an effective replacement for fenugreek leaves. It is effective despite the fact that Chinese celery does not have the characteristic maple syrup taste. Chopped Chinese celery leaves can provide your dish with the mild background bitterness delivered by fenugreek.
You can also combine two of the options on this list; namely, yellow mustard seed and fennel seed. Crush both of them and heat them lightly. The mustard seeds will reduce the sweetness of the fennel seeds and lightly heating them will make the mustard flavor less obtrusive.
---
2 comments
---
---
More from The Pinch: A Spice Blog
View all