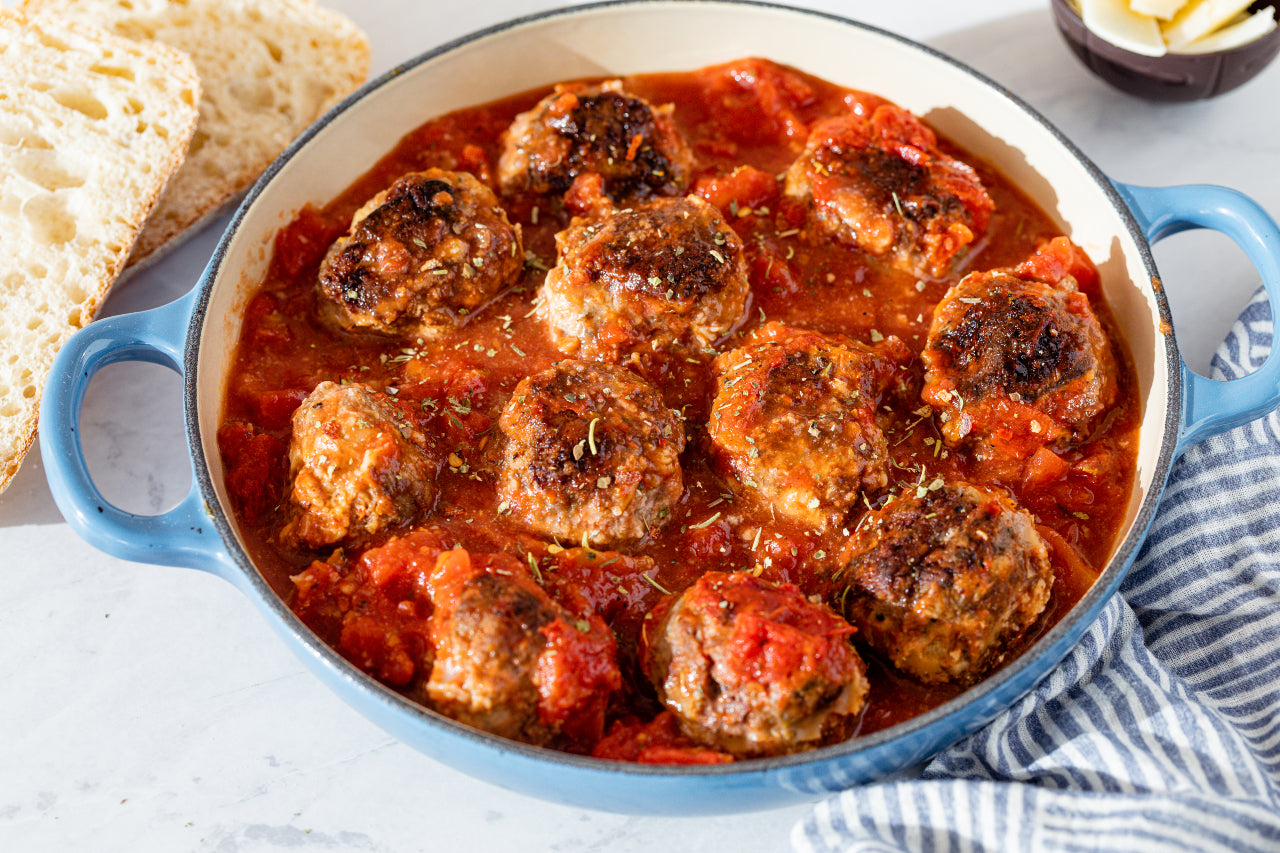 If you're lucky enough to have an Italian grandma, you know the delicious aroma of Arrabbiata sauce filling her kitchen. She was a human measuring spoon, and if she ever let you write down her recipe, it would say "a pinch" of this and "a bit more" of that. Thankfully, this month's blend—RawSpiceBar's Arrabbiata Blend– is already mixed to perfection, with enough fire to make your feisty Nonna proud. 
Along with a bouquet of basil, marjoram, garlic, oregano, thyme and rosemary, the signature workhorse in this spicy "Italian Stallion" of a blend is red pepper flakes. These flakes start fast and finish strong, always going the distance.  
Buon appetito!
Serves: 4-6 
Prep time: 1:15, including chilling time 
Cook time: 45 minutes  
Meatballs 
1 slice white bread, crust removed 
One-quarter cup whole milk 
1 egg 
Three-fourths cup finely grated grana padano 
2 garlic cloves, minced 
One-half tablespoon Arrabiata Blend
One-half tsp salt 
1 pound ground beef (or a combination of beef and veal) 
2 tablespoons olive oil, plus more as needed 
Sauce 
2 garlic cloves, minced 
1 large yellow onion, diced  
1 tablespoon Arrabiata Blend
1 28-oz can crushed tomatoes 
1 15-ounce can diced tomatoes 
Salt and pepper to taste 
Serving 
One-half pound spaghetti 
Grated parmesan 
Fresh basil  
Tear the bread into small pieces and place it in a small bowl. Add the milk and stir to combine. Let the mixture sit for 5 minutes. 

 

In a mixing bowl, combine the egg, grana padano, garlic, arrabiata seasoning, and salt. Add the beef and veal/pork and squeeze the liquid out of the bread. Add the bread to the bowl and use your fingertips to gently combine everything into a uniform mixture. Be careful not to overwork the meat, which can make it tough. 

 

Shape the mixture into one-and-a-half-inch meatballs and place them in an airtight container or baking dish covered with plastic wrap. Refrigerate for at least 1 hour and up to overnight.  

 

When you're ready to cook, heat the olive oil in a large skillet over medium heat. When the oil is hot, add the meatballs, working in batches to avoid crowding the pan, and sear on all sides. Remove the meatballs from the skillet when they're seared. Add more oil as necessary so the pan is not dry. 

 

Pour out all but 1 tablespoon of the fat from the skillet and return to medium heat. Add the onion and garlic and cook for 5 minutes, until translucent. Add the Arrabiata Blend and cook for 1 minute, then add the tomatoes and tomato sauce. Season to taste with salt. Stir everything well, then carefully return the meatballs to the pot. Bring to a simmer and reduce the heat to low. 

 

Cover the skillet and cook for 30 minutes, or until the meatballs are cooked through. 

 

During the last 10 minutes of cooking, cook the pasta in well salted water according to package directions.

 

Serve the meatballs and pasta with grated parmesan cheese and fresh basil on top. 

 
---
More from The Pinch: A Spice Blog
View all