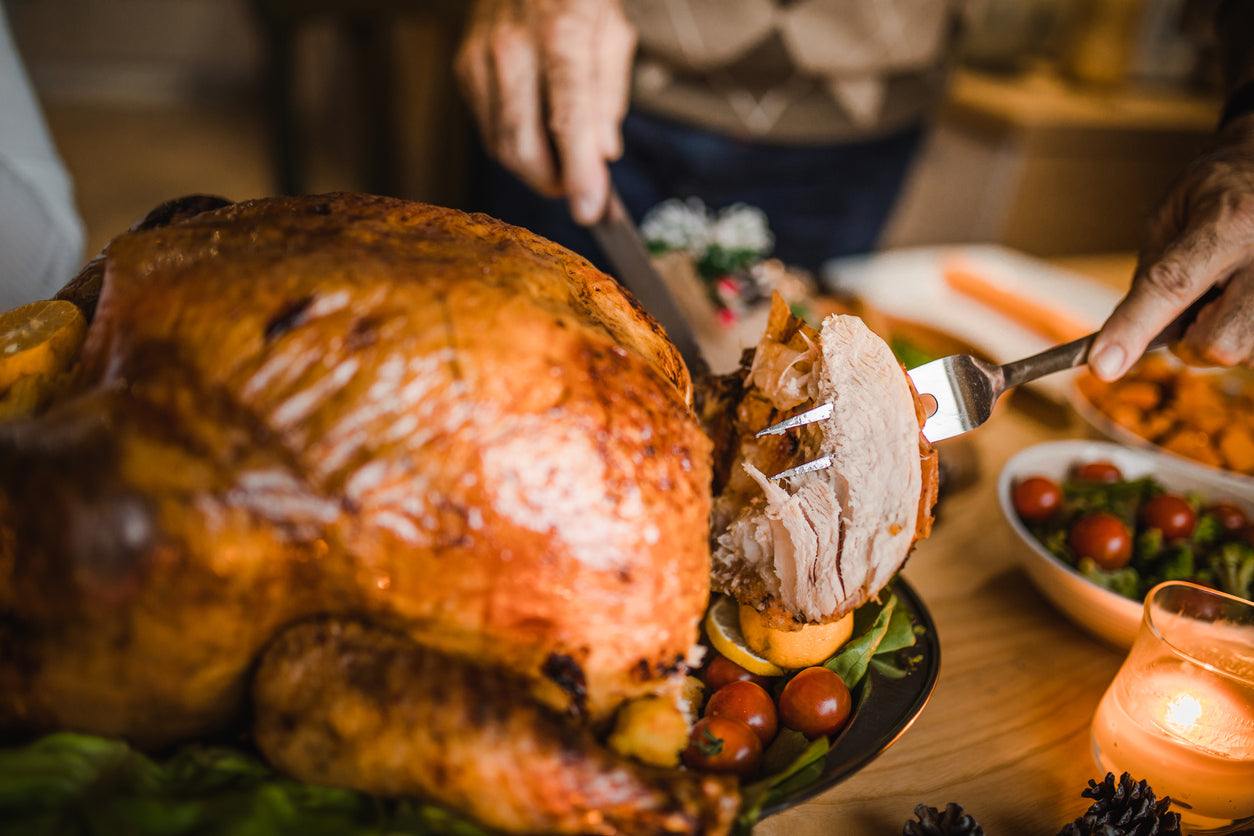 Every Thanksgiving, perhaps the biggest question is how you'll prepare the turkey. This easy preparation is as flavorful as brining, yet nearly as no-frills as salt and pepper. Here's how to shake it up this year. Enter the magic of compound butter.
Perhaps the fastest way to flavor your turkey is to whip up a quick compound butter. Compound butter is really no more than softened butter mixed with herbs and spices. For turkey, we are particularly partial to salt free, freshly ground Back for Seconds Poultry Blend made with sage, thyme, ginger, and other spices and paired with kosher salt and fresh citrus zest. Rub it underneath the skin to not only flavor the meat, but also to help that skin crisp up and turn golden-brown.
Start seasoning a whole turkey the day before roasting for the most memorable flavor. You can season a turkey with a variety of different flavors, as well as a little salt and pepper. Once you've seasoned the turkey, you can cook it according to your recipe. You'll be left with a nice main course to enjoy with friends and family members.
Ingredients
4 tbsp RawSpiceBar Back for Seconds Poultry Blend
2 tbsp Kosher salt
2 tsp lemon zest
4 tbsp butter, softened
2 carrots, diced
1 fresh turkey, 10-12 lbs.
2 onions, diced
1 stalk celery 
Directions
In a small bowl, combine lemon zest, Back for Seconds Poultry Blend, butter and kosher salt to taste.
Preheat oven to 350 degrees. Remove neck and giblets from turkey cavity, set aside. Rinse turkey inside and out under cold running water; pat dry with paper towels.
Stuff cavity of bird with celery, bay leaves, and half the carrots and onions; tie legs together with kitchen twine. Rub bird with butter; sprinkle with Back for Seconds Poultry Blend. Season with salt and pepper.
Scatter remaining onion quarters and carrot pieces on bottom of a large roasting pan; add turkey neck. Place turkey on a roasting rack in the pan. Cook, basting frequently after the first hour, until bird is golden brown, thigh juices run clear when pierced, and an instant-read thermometer inserted into the thickest part of the breast (avoiding bone) registers 170 degrees, 2 1/2 to 3 hours. Let rest 30 minutes before carving.
---
More from The Pinch: A Spice Blog
View all