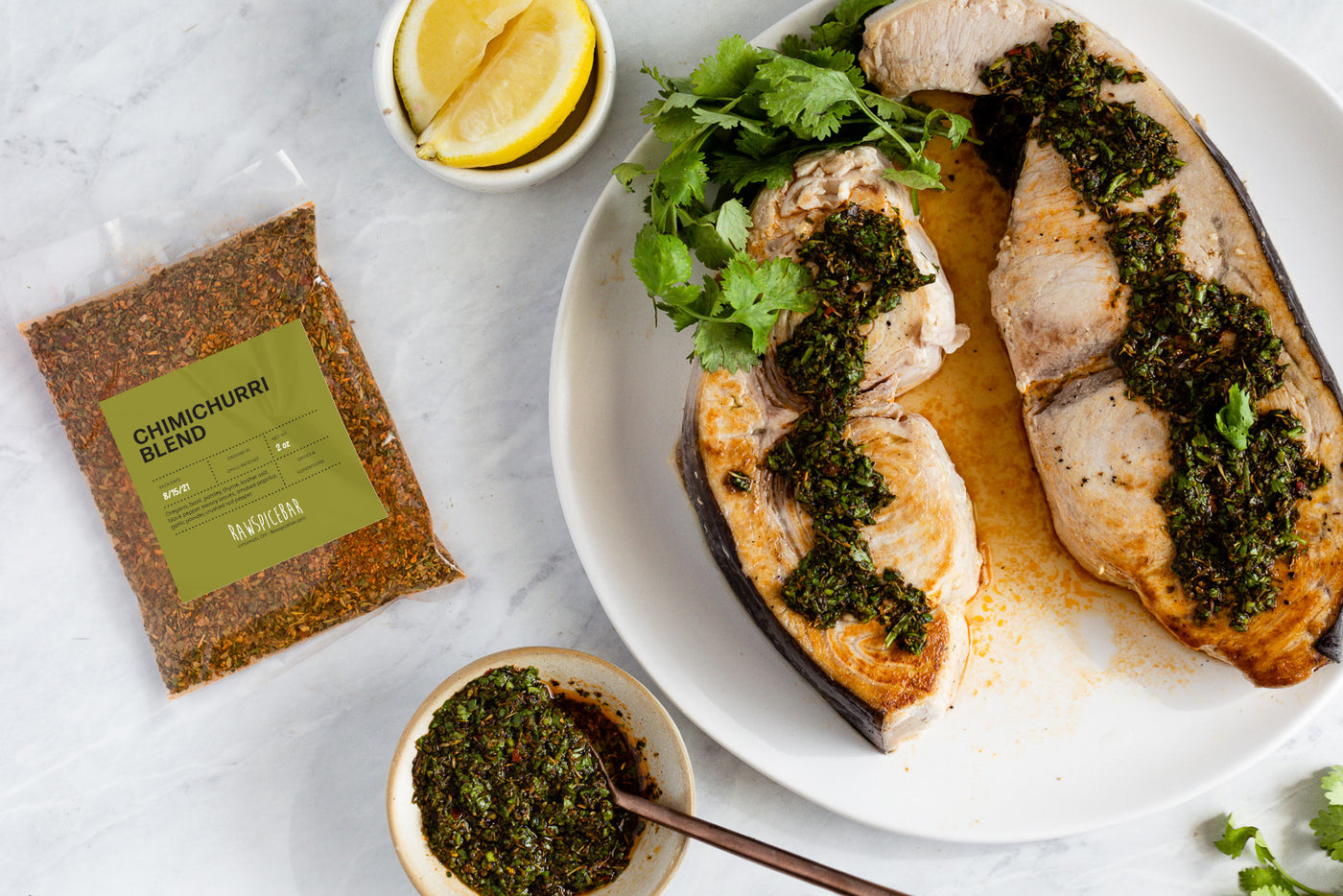 Chimichurri. It rolls off the tongue so nicely. It tastes pretty darn good on it, too. The South American sauce is the perfect slap of sabor for grilled meat, seafood and salads.
Let's take a dip into the makeup, roots and etymology (or eat-ymology?) of the crave-worthy condiment that serves as the inspiration for RawSpiceBar's Chimichurri Blend. 
Chimi Thing

-

 

Chimichurri typically consists of finely chopped parsley, minced garlic, olive oil, oregano and red or white wine vinegar. Some Uruguayan varieties add red pepper flakes for some extra heat. There are a handful of regional varieties throughout Argentina and Uruguay, but the essence of chimichurri is simple yet sublime. 

 

Go, Go Gaucho

-

 

Food historians posit that chimichurri was originally concocted by Argentinian and Uruguayan 

gauchos

 to flavor their meat. Based on their remote lifestyle, it's likely they used dried herbs instead of fresh ones…and it was delicious enough to be one of the defining flavors of the region. 

 

What's In a Nom?

-

 

Depending on who you ask, the name "chimichurri" has a few different origin stories. One legend suggests that it was the incidental mispronunciation of Jimmy Curry, a meat wholesaler. A similar story refers to just "Jimmy's curry." Other accounts say it's an amalgam of English, Aboriginal and Spanish words. There's also the belief the name comes from Basque settlers who came to Argentina in the 19

th

 century and used the term tximitxurri, which loosely translates to "a mixture of things."

 
Chimichurri's bright, floral qualities pair particularly well with mild, meaty swordfish. Buen provecho!
---
More from The Pinch: A Spice Blog
View all