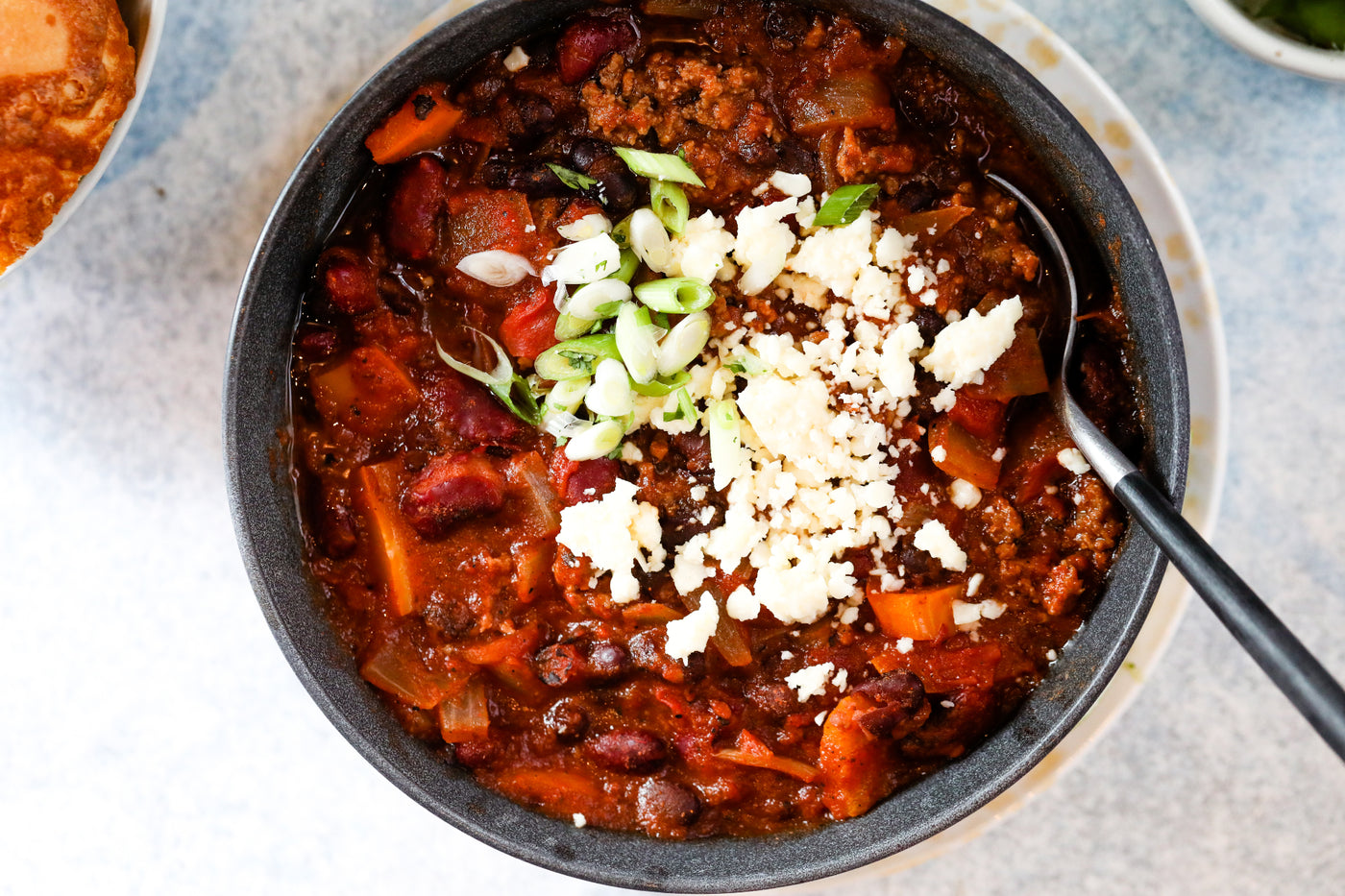 Serves: 4
Prep time: 5 minutes
Cook time: 40 minutes to 2 hours
1 Tbsp. olive oil
1 medium onion, chopped
1 bell pepper, diced
2 garlic cloves, minced
1½ Tbsp. RawSpiceBar Chili Starter Blend
½-2 tsp. cayenne pepper, to taste (optional)
1 tsp. kosher salt
1 lb. ground beef or turkey
1 28-ounce can crushed tomatoes
2 cups low-sodium beef or chicken broth
1 15-ounce can kidney or black beans, drained and rinsed (optional)
Toppings avocado, sour cream, grated cheddar, scallions, lettuce
Heat the olive oil in a large pot over medium heat. Add the onion and bell pepper and cook, stirring regularly, until softened, 5-7 minutes. Add the garlic, Chili Starter Blend, cayenne (if using) and salt and cook for 1-2 minutes, stirring well, until fragrant.

Add the beef or turkey and cook, breaking it up into small pieces with a wooden spoon, until no longer pink, about 5 minutes.

Add the tomatoes and broth and bring to a simmer. Reduce heat to low, cover, and simmer for at least 20 minutes and up to 90 to develop the flavors. If you simmer for longer and the mixture thickens too much, add another 1/2 to 1 cup of broth during the last 10 minutes of cooking.

Stir in the beans (if using) and cook for 5 minutes, or until warmed through. Serve with toppings of your choice.
---
More from The Pinch: A Spice Blog
View all