Arrabiata Minestrone (Vegan)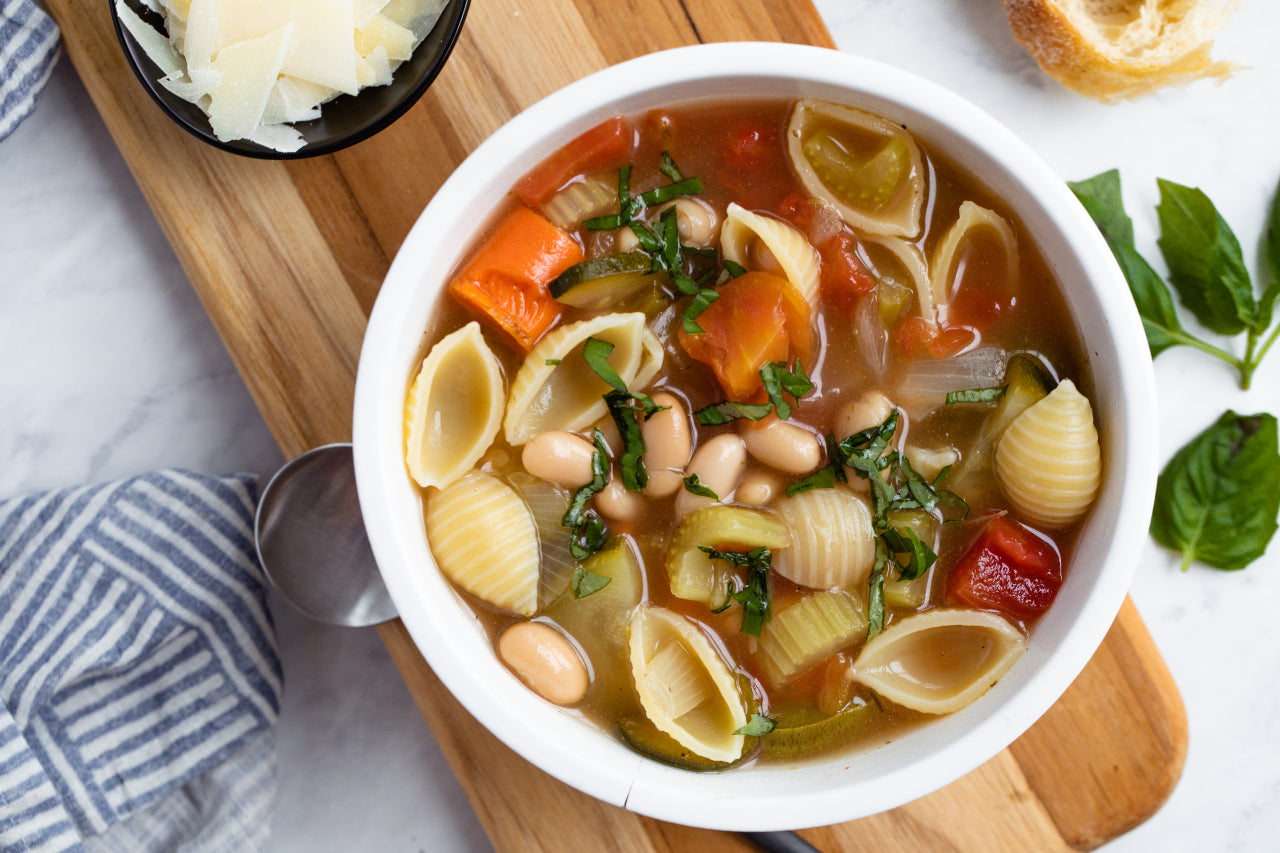 If you're lucky enough to have an Italian grandma, you know the delicious aroma of Arrabbiata sauce filling her kitchen. She was a human measuring spoon, and if she ever let you write down her recipe, it would say "a pinch" of this and "a bit more" of that. Thankfully, this month's blend—RawSpiceBar's Arrabbiata Blend– is already mixed to perfection, with enough fire to make your feisty Nonna proud. 
Along with a bouquet of basil, marjoram, garlic, oregano, thyme and rosemary, the signature workhorse in this spicy "Italian Stallion" of a blend is red pepper flakes. These flakes start fast and finish strong, always going the distance.  
Buon appetito!
Serves: 6 
Prep time: 10 minutes 
Cook time: 20 minutes  
1 tablespoon olive oil 
1 large yellow onion, diced 
2 garlic cloves, minced 
3 celery stalks, diced 
3 large carrots, diced 
2 zucchini, cut into half moons 
1 tablespoon Arrabiata Blend
1 teaspoon kosher salt, to taste 
1 15-ounce can diced tomatoes 
1 15-ounce can white beans 
6 cups vegetable broth 
One-half pound shell pasta (optional) 
Fresh parsley for serving 
Heat the olive oil in a large pot over medium heat. Add the onion, garlic, celery, carrots and zucchini and sauté for about 7 minutes, until the veggies have softened. 

 

Add the Arrabiata Blend and salt and stir for 1 minute. 

 

Add the tomatoes and juices and vegetable broth and bring to a simmer. Cover and simmer for 10 minutes, or until the carrots are fork-tender. Add the beans and warm through. 

 

Meanwhile, in a separate pot, cook the pasta according to package directions. 

 

Season the soup to taste with salt and more Arrabiata Blend if you like. 

 

Divide the pasta between bowls and top with soup. Garnish with parsley and serve. 

 

 
---
2 comments
---
---
More from The Pinch: A Spice Blog
View all